An Introduction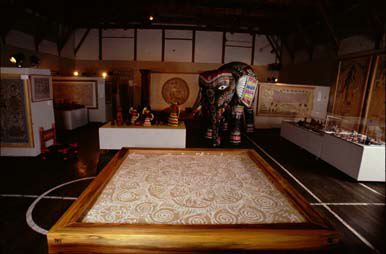 The Mithila Museum is housed in a converted schoolhouse in Tokamachi, Niigata Prefecture, situated in Japan's snow country. Here approximately 850 Mithila paintings, more than 300 paintings that the Mithila artists created in Japan, Warli paintings by an aboriginal group in India, and Indian teracotta statues and figurines, are exhibited on a permanent basis.
The core of the teracotta collection is the 109-piece donation made in 1989 by the Government of India. The Mithila art collection, which was created to contain the diaspora of this art form, is recognized by the Government of India for its breadth and quality.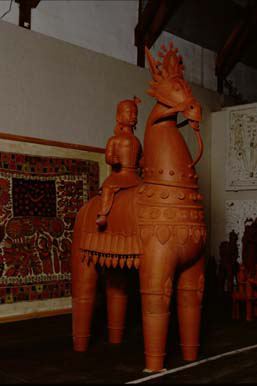 The Museum focuses its activities on the acquisition, research, and publicity of Mithila paintings, a free school using the surrounding natural forest as a backdrop, and provision of a forum for international understanding. All its cultural activities are based on a cosmic outlook on time and space.
Since 1988, when the world renowned Mithila artist Ganga Devi came to Japan, the Mithila Museum has invited various painters of Mithila art to Japan, and have asked the painters to practice their art form using traditional methods on a new material the Museum has developed. This material we call "pseudo wall." These paintings, using traditional bamboo stencils and natural pigments, synthesizes the naive and quiet magnitude of the traditional wall paintings with the contemporary, thus creating a totally independent and unique world of its own -- a world which we describe as "the cosmology of prayer."
Unlike in the native environment where these paintings are drawn, in Japan the Mithila and Indian aboriginal group artists create their art in an environment where a higher degree of refinement and creativity is possible. The Museum continues to add to its collection these new paintings created in Japan, giving each artist an opportunity for artistic growth.
---
---
The Mithila Museum has openings for short term and long term volunteers. Participants in the Museum's activities will have a first hand chance to learn from the unique artists creating the Warli and Dokra Indian aboriginal artists, and Mithila artists, who regularly come to Japan to exhibit and create their artwork.
We have the following openings:
Museum workers: long and short term

The Museum regularly maintains a traveling exhibition. Among other things, volunteers would be required to man the reception and gift stalls, scheduling the artists' itinerary, and attending to the personal needs of the artists.

Short term and part time volunteer

The Museum requires among other things, volunteers to help out in the fields, and help out in creating databases and home pages with the PC.
go to Index
---
Notice on Operating Hours and Admission Charges
Admission fees:
Operating hours:

10 am to 6 pm; closed on Tuesdays. If a national holiday falls on a Tuesday, the Museum will be open, but will close the next day.
go to Index
---
From Tokyo by train:

Take Jo-etsu Shinkansen to Echigo Yuzawa. Change to bus to Tokamachi, get off at Hon-machi San-chome. 15 minutes by taxi from bus stop.

From Tokyo by car:

Take Kan-etsu Highway to Muikamachi. From Muikamachi exit, proceed to Tokamachi.

From Niigata by train:

Take Jo-etsu Shinkansen to Nagaoka. Change to bus to Tokamachi, get off at Hon-machi San-chome. 15 minutes by taxi from bus stop.

From Niigata by car:

Take Kan-estu Highway to Echigo Kawaguchi. From Echigo Kawaguchi exit, proceed to Tokamachi.
go to Index
---
Mithila Museum
Ooike, Tokamachi-shi, Niigata Pref. 948, Japan
Phone +81 (0)257-52-2396/Fax+81 (0)257-52-6076
E-mail: info@mithila-museum.com
(c) Copyright 1996/2005 Mithila Museum.All rights reserved.