1996.10.14

Mithila Paintings
 The area surrounded by the Ganges River to the South, the Himalayas to the North, and the now gone Kosee and Kandakee Rivers to the East and West, has been known as the home of the ancient Mithila Kingdom.
 Over 3000 years, the women of this land have handed down the tradition of wall paintings from mother to daughter.
 Scorching sun, prolonged monsoon, flood, drought, earthquakes, and chilling Himalayan winds. The women of Mithila have continued to draw their wall and floor paintings to avert these natural disasters, protect their crop, and pray for the well being of their husband and children. In a rich tradition of festivities based on the movements of the sun and moon, local and Hindu gods are drawn to adorn the walls of the people's humble abodes on each family and religious occasion.
 This art form was discovered in 1934 by English colonial administrative official W. G. Archer when he was surveying the houses crushed by an earthquake that hit the region. It has, with subsequent Indian government help, been introduced to the world. The art form has been highly regarded not just in India, but in Japan, Europe and the United States.
 In 1988 one of the most renowned of Mithila painters Ganga Devi was invited to Japan by the Mithila Museum to produce her work, and a whole genre of Mithila paintings has opened up. Subsequently, artists representing other Indian groups have been invited to the Museum to produce their artwork. Unlike in the native environment where these paintings are drawn, in Japan the Mithila and other Indian traditional artists can create freely in an environment where total concentration to their artwork is possible. They also breathe in the different atmosphere surrounding them. The art thus created represents a synthesis of the traditional with the artists' individuality that surfaced in a non traditional environment. The Museum continues to add to its collection these new paintings created in Japan.
---
| | |
| --- | --- |
| "Tree of Surya Mukhi" by Ganga Devi | "Train in India" by Ganga Devi |
---
| | |
| --- | --- |
| "Chakra" by Godawari Dutta | "Trishula" by Godawari Dutta |
---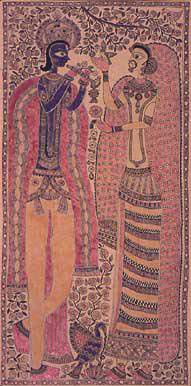 "Krishna and Radha" by Sita Devi
go to Home
---
Mithila Museum
Ooike, Tokamachi-shi, Niigata Pref. 948, Japan
Phone +81 (0)257-52-2396/Fax+81 (0)257-52-6076
E-mail: info@mithila-museum.com
(c) Copyright 1996/2005 Mithila Museum.All rights reserved.